Everything you need to know about USP​
Cities are endlessly fascinating – if you are interested in better understanding their complexity, diversity, and promise, the multidisciplinary Urban Studies Program (USP), with its focus on community-engaged learning, is the place for you.   
A welcome message from David Roberts, program director
Understand urban life through a multidisciplinary lens
The Urban Studies Program (USP) is a multidisciplinary undergraduate program that offers you a variety of lenses for observing, interpreting, and understanding urban life. When we discuss, teach, and research cities, we draw on insights from various academic disciplines and other ways of seeing the world.
Pursue your passions and build your own degree
You will be encouraged to pursue the aspects of cities and urban life that you are most passionate about – and to build your degree program around these passions. While we provide core courses that set the foundation for your degree, you can build a degree program from courses across the University that speaks to your life interests and career goals.
Take it to the streets: enjoy community-engaged learning
Toronto, dynamic and diverse, a large city faced with significant challenges, provides an important backdrop and laboratory for us. Community-engaged or experiential learning is at the core of much of what we do. This includes formal placements in courses in both the second and fourth years, as well as numerous other courses where community partnerships provide a key component to your learning. Our goal is to inspire you to engage with the world around you, develop critical thinking skills, and begin to build a personal vision of a more liveable and just urban future.
Choose from a wide and diverse range of career journeys
Where can you go with a degree in urban studies? With the critical thinking skills you will develop, a wide range of dynamic and fulfilling careers and graduate programs are open to you. The diversity of careers that our students pursue reflects the diversity of interests that they bring to studying the city – including jobs and graduate programs in law, social work, public policy, environmental sustainability, and a whole range of other forms of city building. Many of our students also go on to graduate programs in urban planning and move into careers as planners.
Learn and grow in a small-group, community-oriented environment
Think of USP as more than just an academic program – we're also a community of people interested in better understanding cities and contributing to city building. This begins in our small class sizes that give you the opportunity to get to know your faculty and instructors, as well as your fellow students. We have a robust student society, the Urban Studies Student Union (URSSU), with whom we partner to host events and activities. And we stay in touch with our alumni, who return as mentors for current students, community placement supervisors, guest speakers in our courses and events, and, more broadly, friends of the program.
Browse our course pages. Check out what our grads are doing. And don't hesitate to get in touch with us with any questions about USP, choosing courses, or building a program that's right for you.
Why choose USP over other campus programs or majors?
Many departments and programs at U of T have courses on cities and urban life, and there is widespread interest from students. However, given the complexity of the subject, our comprehensive Urban Studies Program can offer a range of perspectives, and enriched analysis. Here's what makes us distinct from other majors:
Cities and urban life are the central foci of all of our courses.
We use a multidisciplinary approach, in which we draw on different insights from various academic disciplines/majors, to engage in a conversation of many strands and layers – learning from multiple ways of seeing and understanding the city and urban life.
As a small college program, we work to foster a sense of community that is often hard to find at a university as large as

U of T

.
Learn more about David Roberts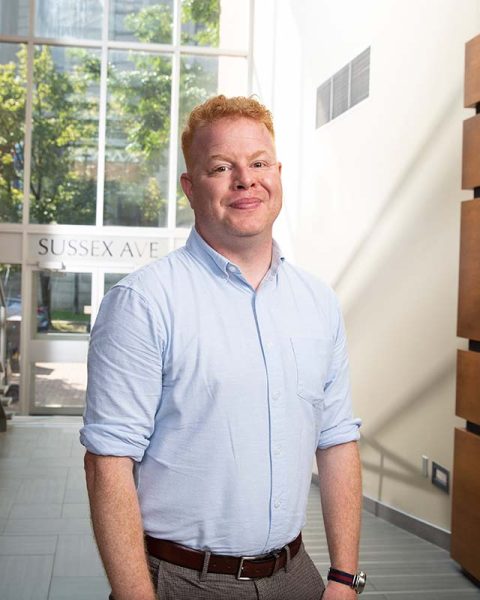 d.roberts@utoronto.ca
416-978-7790
I am an associate professor in the teaching stream, and also the director of the Urban Studies Program. I have a deep passion for understanding how cities work and what influences urban change, and am also committed to engaging in work to build more just and liveable urban futures.
Have questions about USP?
Need more info? Want to discuss if the Urban Studies Program is right for you? Looking for help in choosing courses? Jannie Chien, the Innis College academic program coordinator, can help!
Looking for USP scholarship and award info?
The Urban Studies Program has three dedicated scholarships and awards designed to recognize and support Innis College students in the program. The college also has a number of other awards open to Innis students in many programs and courses.
Is your organization interested in partnering with USP?
Is your local, regional, or national organization interested in placing students from our program? We are always looking for new community partners for a select number of courses. Our current partners include the City of Toronto, Evergreen, and the Canadian Urban Institute.