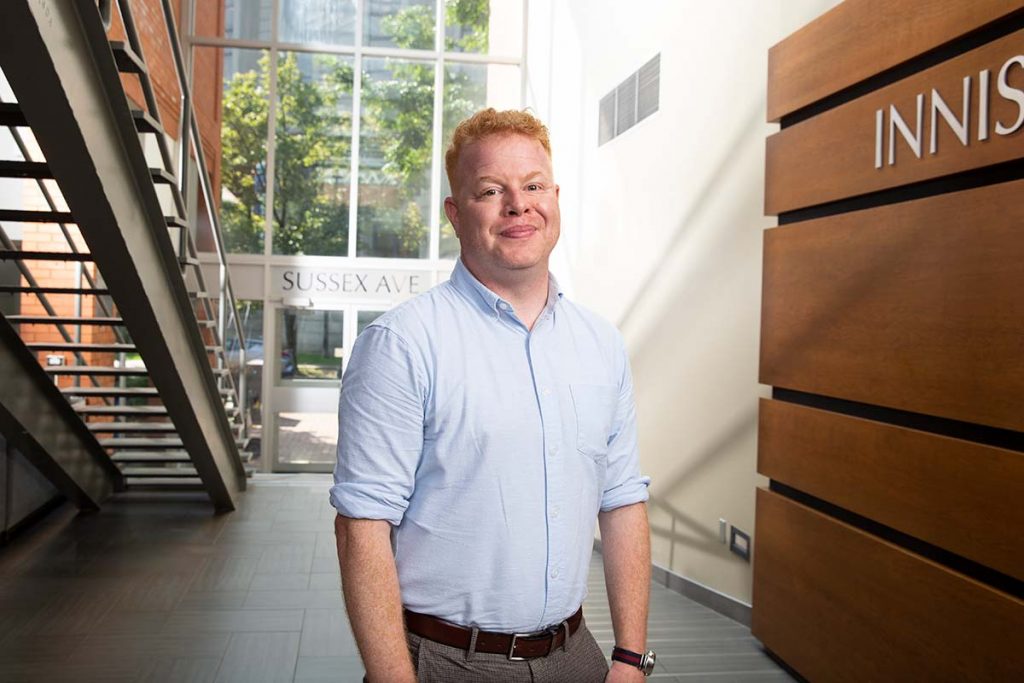 I joined the Urban Studies Program in 2013 after completing my PhD and MA in geography from the University of Toronto. Prior to that, and after completing my undergraduate degrees in political science and business administration from the University of Washington, I worked for several years at a shelter for homeless and refugee teenagers in Seattle. It was my experience working in the shelter that really piqued my interest in urban issues and urban life. This work also cemented my commitment to imagining and helping realize more liveable and just urban futures. I try to embrace this commitment throughout all my activities as a professor and citizen of the University and City of Toronto, most notably through my research, community engagement, and teaching practices.
For my PhD, I studied the impact of South Africa's hosting of the 2010 FIFA Soccer World Cup on the lives of individuals who called the host cities home. In particular, I was interested in the power dynamics that shape the policing of space. These practices impact how individuals from marginalized communities live, work, and play in host cities. I also investigated how those individuals challenge the dominant modes of planning that prioritize tourists, developers, and wealthy residents, while excluding others, such as youth, street traders, and subsistence fisherfolk, from any benefits related to the World Cup. More recently, I have focused my attention on Toronto. I am currently working on three interrelated projects:
For the past couple of years, I have worked with a team of researchers and community partners to map the social-service landscape that independent refugee youth encounter when they come to Toronto. My hope is that through listening more carefully to refugee youth, we might collectively build a more transparent, navigable, and supportive service system.

Additionally, I have an ongoing project that examines moves to redevelop Moss Park – my neighborhood in Toronto. Over the years, I have included several Urban Studies students as co-researchers on this project. The issues we have studied and written about are only being amplified by the announcement of a proposed station on the subway relief line in the park. See below for some recent publications on Moss Park:
Roberts, D. J., & Catungal, J. P. (2018). Neoliberalizing Social Justice in Infrastructure Revitalization Planning: Analyzing Toronto's More Moss Park Project in Its Early Stages. Annals of the American Association of Geographers, 108(2), 454–462. https://doi.org/10.1080/24694452.2017.1365589
St. Louis-McBurnie, K., Pagaling, N. M., & Roberts, D. J. (2023). The work of crisis framing: Claims of social justice obscuring a history and, likely future, of uneven investment in Moss Park, Toronto. Journal of Urban Affairs, 45(1), 17–34. https://doi.org/10.1080/07352166.2020.1863816
I am also part of an international team of researchers looking at the ways in which community organizations stepped into the gaps left by governmental COVID-19 responses – especially in the areas of food security and health. You can read about the project here.
I am involved in various forms of active citizenship that undeniably shape how I teach and conduct research. These include:
Member of Downtown East Emergency Plan Evaluation Advisory Committee, where I provide advice to the City of Toronto on how to evaluate the effectiveness of its interventions in issues of mental health, homelessness, and addiction and harm reduction centred on Toronto's east downtown neighbourhoods.
Faculty Advisor for Access and Inclusion Peer Programming at the University of Toronto. Access & Inclusion Peer Programs is a mentorship program for African, Black Caribbean, Latin American, Southeast Asian, and First Generation students. As a faculty advisor, I work to bridge academic-success programming with what takes place in classrooms.
Co-coordinator of a workshop series for faculty on equity and inclusion in teaching. This series provides a space for faculty to discuss and strategize on how to make the University of Toronto a more equitable and welcoming space for the wonderful diversity of our student body.
Given the small number of teaching staff in the Urban Studies Program, I instruct a variety of courses, from URB236: Introduction to Urban Studies II, to URB439: Cities and Mega-events: Place-making, Contestation, and Urban Citizenship, a special topics course that focuses on the role that hosting large-scale events plays in contemporary urbanism.
Starting in 2022, I began coordinating URB431Y: Multidisciplinary Urban Capstone Course, a partnership between the Urban Studies Program and the School of Cities at U of T, with participation from disciplines across the university. This unique course matches multidisciplinary teams of undergraduate students with community organizations. Students act as consultants on a particular challenge that the community organization has identified.
Throughout my instruction, I am committed to teaching critical thinking skills that help students connect course material, readings, and discussions to what they see and experience in the world.
Have questions about USP?
Need more info? Want to discuss if Innis's Urban Studies Program is right for you? Looking for help choosing courses? Jannie Chien, Innis College academic program coordinator, can help!